Discover more from RUJ's Newsletter
4-string fun in Raleigh, N.C.
UPDATED: As the weather outside gets frightful
Includes cancellation of December 20 date at Waltonwood Lake Boone
The NCUC gig at the Old North State Food Hall was a blast! Video evidence at this post …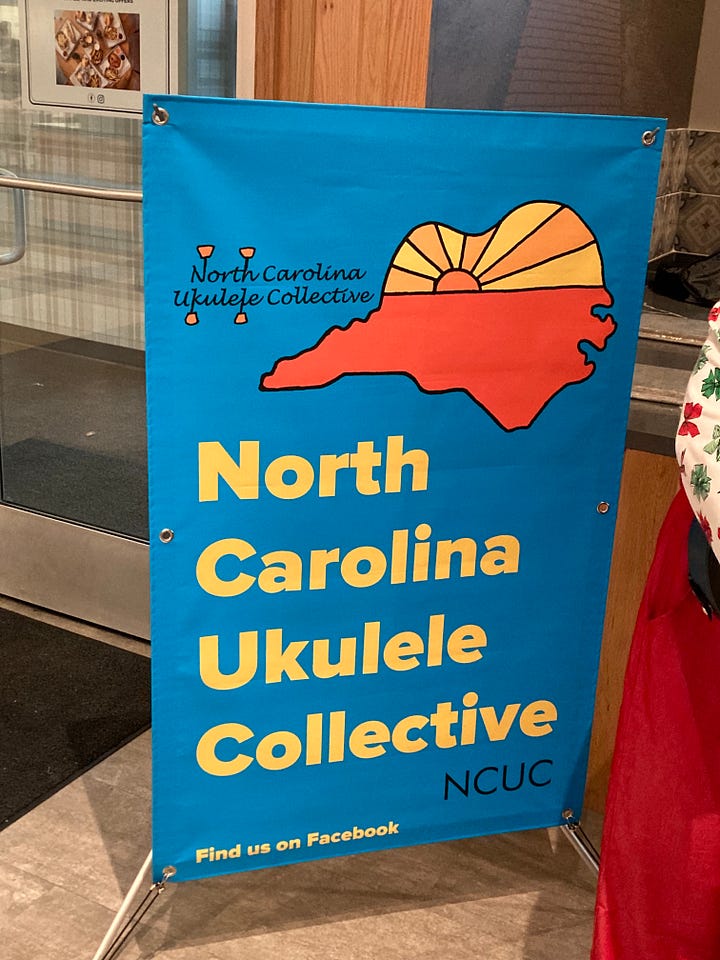 Thanks to all the fine folks from Wilson, Fayetteville (and Raleigh!) for making the trek. The crowd loved us.
Monday, we visited our friends at the Total Life Center Bond Park for more holiday tunes. As always, thanks Salima, the staff, and the participants for making us welcome!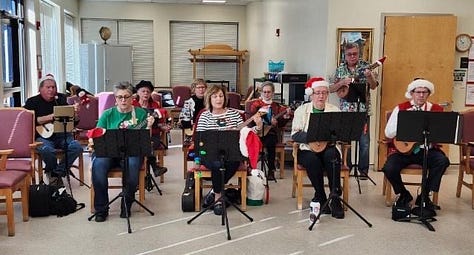 Thursday, we'll jam at the church, 7 p.m. There may be other-than-seasonal songs on the agenda. You'll have to show up to find out!
A couple more hall-decking opportunities
UPDATED, DECEMBER 19.
Monday we're at Woodland Terrace, 300 Kildaire Woods Road, Cary. We play two sets: one at 2 p.m.; the second at 3 p.m. Our first set is in the memory care section of the property, where we played in June. Please arrive no later than 1:45 to set up. Then we'll move to the independent living section, which is across the street. Heather from the center will be there to guide us. Please check with me if you have questions.
Tuesday at 2 p.m. CANCELED! A scheduling conflict arose, so Waltonwood Lake Boone is canceled. We'll try to entertain those folks sometime in the new year. Sorry for the late notice.
We take a brief break before Jamming at Pelagic, Tuesday the 27th at 7 p.m. You know the drill.
Finally, we ring out 2022 with an Open Mic at the Church, Thursday the 29th, 7 p.m. I'll send out a reminder to let me know if you want to share some year-end spirit thru song. (In other words, a signup sheet … )
Let's thump!
Rick